eBay – Professional Package

Custom Shop & Listing Design We create unique, industry appropriate designs based on your preferences. All designs are bespoke we do not use templates to create our Professional designs so we can tailor the design to your requirements within the constraints of your selected package and eBay rules. We will supply a customized shop home page with a matching item listing design.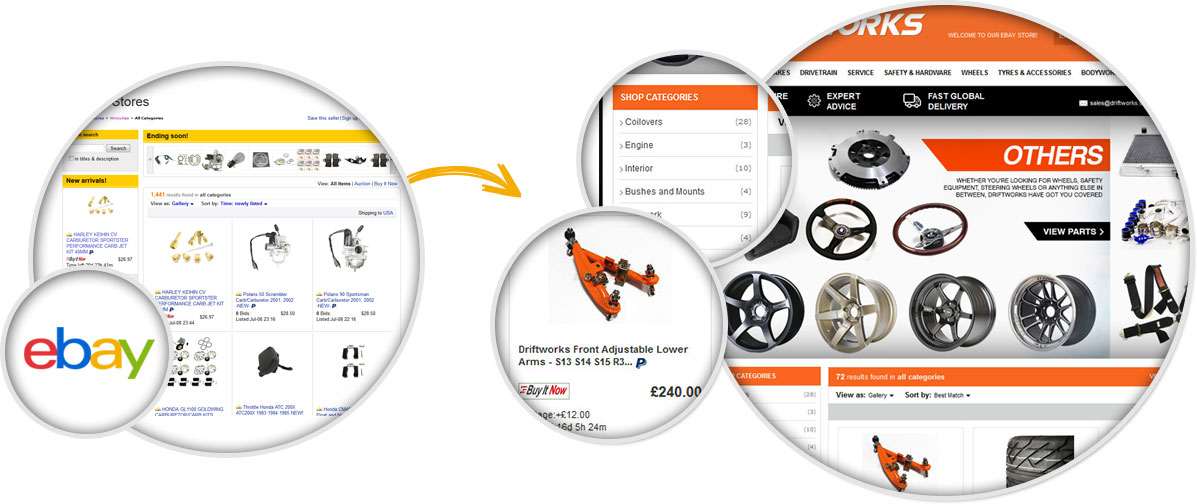 Your Professional design

Package includes the following features:
Custom Shop Design
We will create unique, industry appropriate design based on your preferences. Your design will be bespoke so we can create exactly what you want within the constraints of your selected package and eBay rules.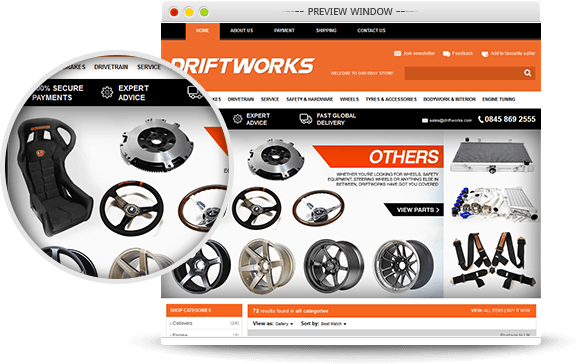 Listing Template
We will create one matching item listing template which can be used to create new eBay listings from a wide variety of platform: eSeller Manager (our own subscription software), Linnworks, Channel Advisor, Bright Pearl, TurboLister and many others. You can also use the HTML code to create descriptions with the design embedded in any free HTML editor for use directly in eBay.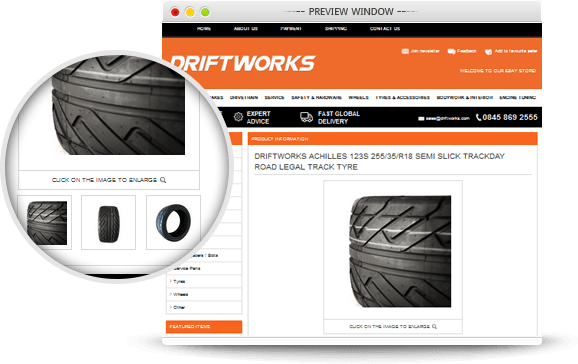 Mobile Responsive Coding
We will create a separate design layout specifically for mobile display. Your design will switch automatically between desktop and mobile views as it automatically identifies the appropriate version to display. The responsive layout is designed to enhance viewing in a mobile device – no need to zoom, simple vertical navigation, optimised for faster loading on a mobile and compatible with the eBay app.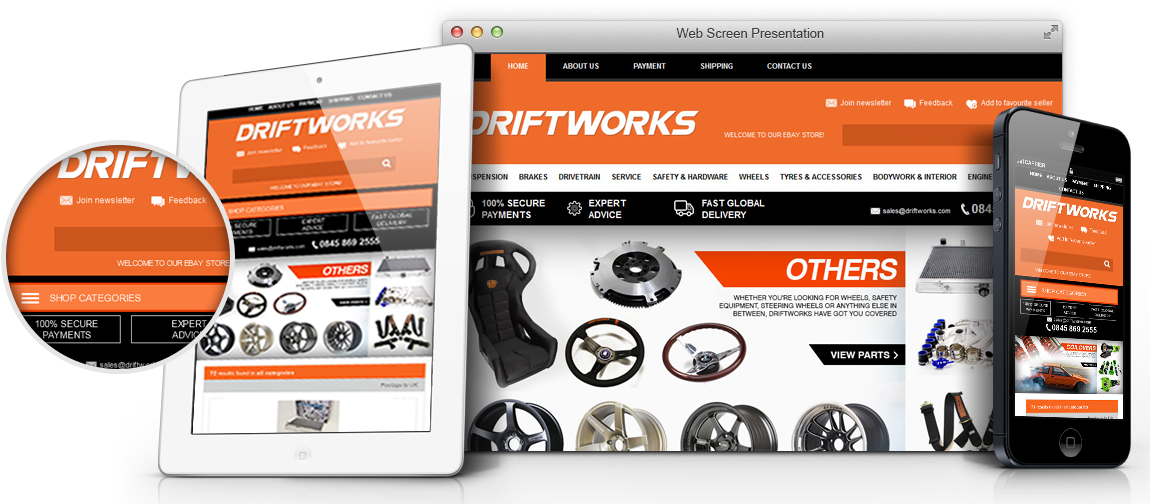 Logo Design
If you do not have a logo, we will create a simple text-based logo for you. Our designers will be happy to offer more complex designs subject to quote. Please ask us for details.
Store Header Design
eBay Store page links (FAQ's, shipping information, about us etc) will be incorporated into your header design.
Main banner with up to 3 rotating images
Centralised Main Banner can display up to three images which switch constantly to highlight products, ranges, features and maintain customer interest.
Can be hyperlinked to shop categories or sub-categories for specific promotions.
Can be fully managed using our eSeller Manager software
eBay Store Page Links
eBay Store page links (FAQ's, shipping information, about us etc) will be incorporated into your header design.
High Visibility Search box
The standard eBay search box will be customized to be highly visible within the header design, to encourage customers to search within your shop rather than return to the eBay search. Customers can search for key words in your Titles and Descriptions.
Horizontal Navigation
The addition of the horizontal Navigation bar at the top of the shop and listing will help customers to navigate through the store with ease and directs their attention toward specific categories by giving them increased prominence.
Clear, easy navigation is designed to keep the potential customer in your store and discourage them from going back to the standard eBay search.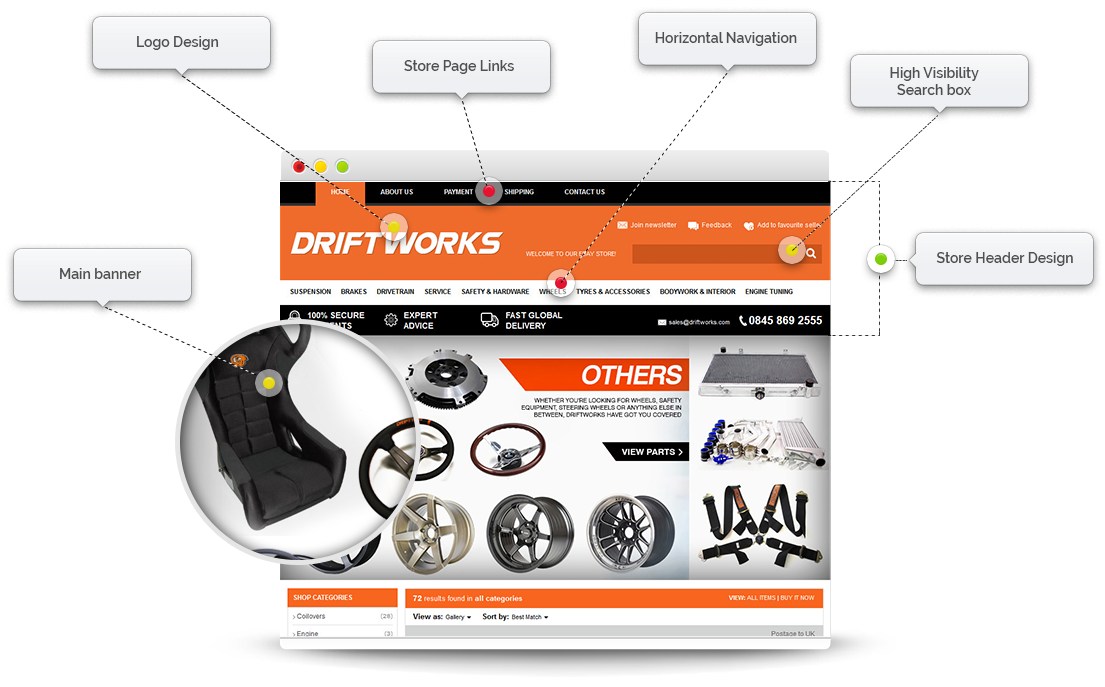 Promotion Boxes
If you do not have a logo, we will create a simple text-based logo for you. Our designers will be happy to offer more complex designs subject to quote. Please ask us for details.
Dynamic Shop Categories
The custom designed store category list displayed on the left side of the shop and item listing helps to speed up navigation through your store and encourages buyers to remain in your store rather than return to eBay's general search. These categories are based on the categories you created within your eBay shop setup. Dynamic navigation means that when you add or delete Store Categories in eBay they will automatically appear or disappear from your navigation within the design. The display order is based on your own internal settings in eBay's Manage My Store section.
Featured Items
Featured items can be displayed down either side of the shop and listing design for vertical scrolling, or below the main banner for horizontal scrolling
Featured items represent a fantastic opportunity to cross promote your sales items.
Guaranteed to catch the buyers eye and adds to the overall dynamic impact of your new design
Featured items are set as default to display randomly from your active listings. This can be managed and changed using eSeller Manager.
Custom Footer
We create a footer section for your design which adds to the overall impression of a professional website style shop. This section can be used for information about the business, newsletter sign ups, additional cross promotion and so on.
Multiple Images in listings
Design includes a photo gallery area where you can include multiple images without incurring additional charges from eBay and can be fully managed using our eSeller Manager software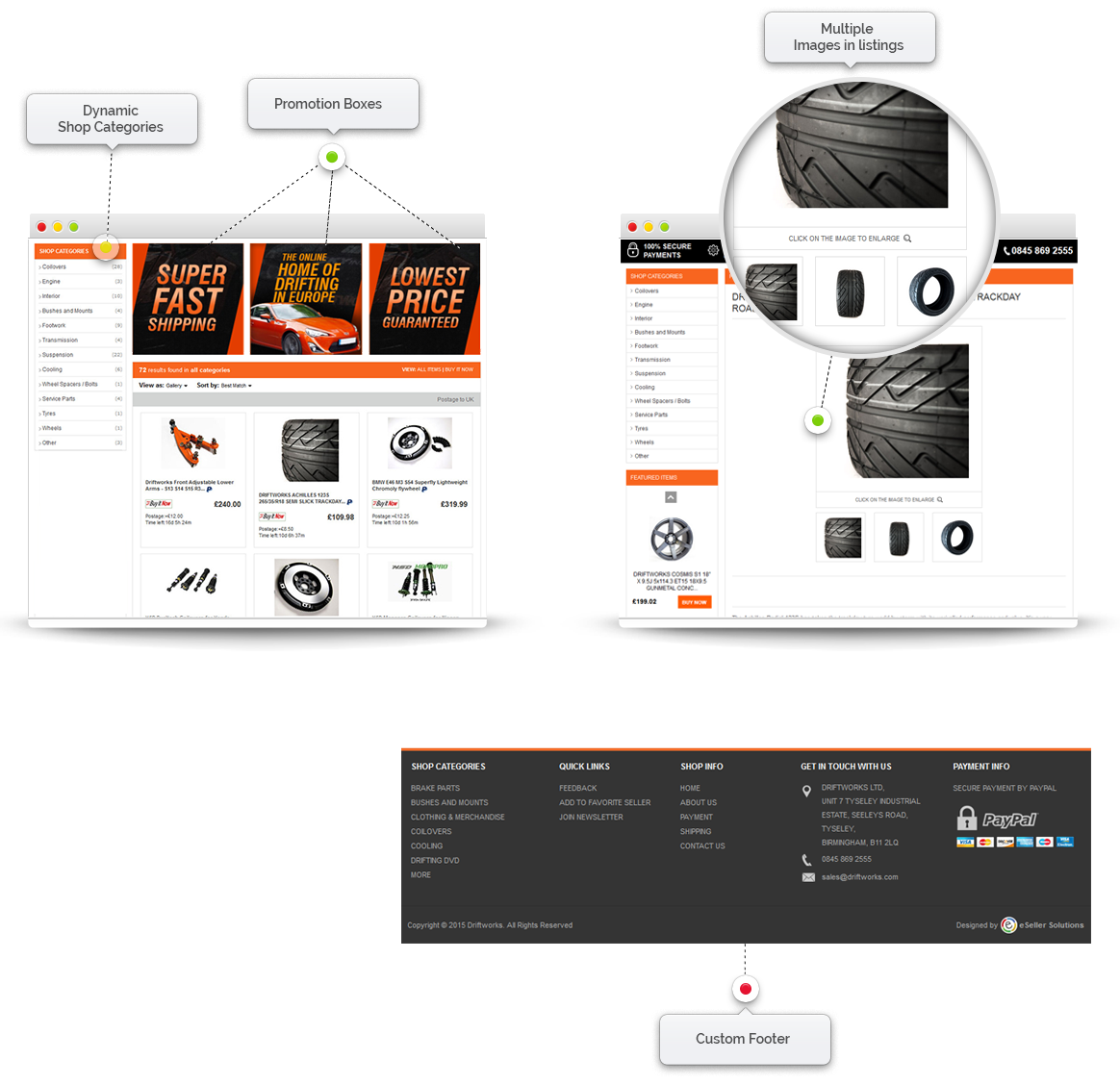 Optional Extras
Why not look at some of the additional features you could add to your Professional design? Have a chat to us and we'll be happy to quote
Additional Category Image Boxes (x3)
These boxes allow you to promote/highlight specific shop categories on the main shop page. Each box includes the category name and a category specific image and will open to a search results page displaying the relevant products.
Additional Main Banner Image (x1) *
The Professional package includes 3 and Premium package includes 4 rotating main banners. If you would like display additional banners, we can create them for you
Positive feedback Display *
All the positive feedback received from the customers can be collected from eBay for display on the store page. This is a great way to inspire customer confidence. You can manage this feature in your listings using our eSeller Manager software.
Shop Offer Banners (x2) *
Exciting shop offers like discounts, clearance sale can be highlighted in the store page for immediate impact
Additional Promotion Box (x2) *
Add extra promotion boxes to highlight Fast Delivery, UK supplier, Free Delivery, Product Warranties, Satisfaction Guaranteed etc. We will create these banners for you. The main packages already include 2-3 as standard depending on the package
Newsletter Subscription banner *
Encourage buyers to sign up to a newsletter to increase your opportunities for direct marketing and improve your recurring sales.
Brand Logo/Brand Search *
Up to 20 Brand logos can be included with links to the branded product. Brand must be included in Item Specifics for this search to work and you need to supply the logos. It is the client's responsibility to ensure that they have the Owner's permission to use the logo
New Arrivals/ Seasonal Items *
New Arrivals/ Seasonal Items is an exciting store feature designed attract more interest in a targeted product range. You can manage this feature in your listings using our eSeller Manager software.
Specific Related Items/Cross Promotions **
Fantastic feature designed to link specific items in your store to create cross and up sell opportunities. Specific Related Items allows you to target individual products or ranges with highly relevant cross promotions. Please note that this feature requires our eSeller Manager software.
Upload Listing Template to Linnworks, Channel Advisor or M2E Pro
Create your listings in any one of these platforms with your new design. We will add the coding to your preferred platform and create the necessary tags to embed the description data fields for seamless listing creation. Once the design coding has been added, you can then create multiple copies, depending on the variations required in the platform.
Items marked * can be self-managed via eSeller Manager – our proprietary listing and design management on-line application included in your monthly subscription.
Items marked ** will only be available with eSeller Manager
Payment Terms
Payment can be split into three (3) equal instalments, subject to agreement.
Additional costs
We do not create designs for you that require that you sign up to indefinite contract periods for unspecified future pricing. Instead we have created a design that you can host on your own server and can manage if you have knowledge of HTML and access to an HTML editor (of which several are freely available).
For those customers who do not have their own hosting or who are not proficient in HTML coding, we offer a monthly subscription-based application to ensure that you get the full benefit of your new designs.
Hosting (optional)
Hosting is necessary, however you are not required to use our service. If you do not have your own provider we can offer this service as part of a subscription or as an annual standalone cost.
eSeller Manager (optional)
We create your design and provide you with the HTML coding we create for you, but many of your design aspects can be self-managed using our eSeller Manager application. With this software you can change banner images, promotion boxes and much more without incurring the cost of using our design services after the initial build.
Subscription to this software is not mandatory but the functionality provided can save a great deal of time as well as money. This application will allow you to manage your designs and make changes that we would ordinarily charge at our standard rate.