Improve buyer
Confidence
Enhance your eBay
store & listings
Reduce your costs
Increase brand
exposure
Professional eBay Shop Design & Listing Templates
You have your eBay shop, you have all your products listed neatly in organised categories, your prices are competitive, your feedback is gradually growing, and your customers are happy… but it just doesn't seem to be happening for you with your eBay shop. While good feedback and eBay Top Rated status is certainly a very important factor in a consumer's decision as to where to purchase their eBay items, a shop that does not grab the buyers attention hard enough to get them to remain in your store, or a listing description that is bland, or, at worst a little messy and does not cross promote your products can lose the potential buyer.
A professionally designedeBay shop speaks volumes about a seller's perceived professionalism. A well organised, professional eBay template shows you mean business, quite simply. It also helps upsell and cross sell your items, and improves buyer confidences along with the whole buying experience, which can only be a good thing. The feedback we have received from customers for whom we've designed eBay shops has been overwhelmingly postitive. See [ here ] for some of our success stories with customers who have benefited from our pro eBay listing templates and shop designs. Wouldn't you like to add your name to that list?


Outstanding eBay custom designs
that will amaze your potential customers and leave them keen to navigate through the store.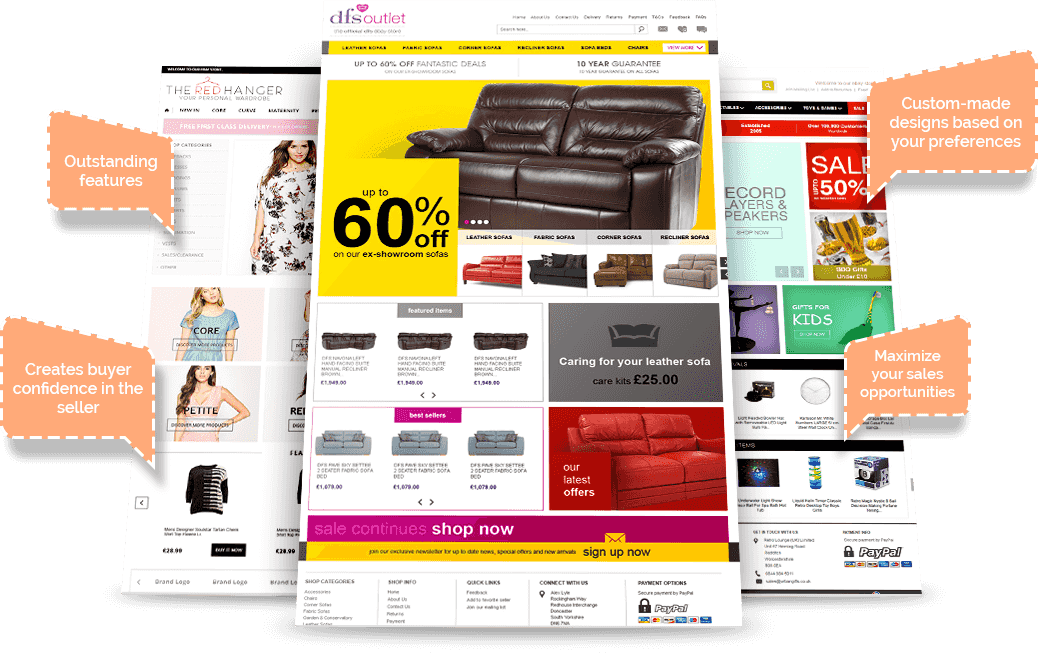 OUR
Awesome Work
These are some of our previous projects
eBay Shop

Packages
If you would like to speak to a representative about your own store, please get in touch.
You're welcome to call, or complete our contact form and we'll call you.