Improve buyer
Confidence
Enhance your eBay
store & listings
Reduce your costs
Increase brand
exposure
Professional eBay Shop Design & Listing Templates
eBay shops are still a great way to get your products into the public domain, and more importantly sold! Millions of people use eBay world wide every single hour, think of all those potential customers just waiting to do business. However there is a massive difference between a good eBay shop, and one that really just does not hit the mark. It is your job to make sure they do not scroll past and buy from someone else.
It used to be enough to have your products neatly structured in categories that made it easy for your customers to find them. But now the buying public is looking for more.
Yes you need to have competitive prices, and any sales that leave positive feedback help build your reputation. We do not dispute that getting to be an eBay Top Rated Seller is something worth striving for but you cannot stop there.
What does a consumer want?
Good feedback is a great starting point, but with hundreds of other sellers staying on point and ensuring they keep cracking feedback and staying in the high 99-100's, this is not going to be the reason you stand out.
What customers hate are bland poorly constructed, badly worded listings. It just looks bad. They will soon move on without buying anything. A good listing needs the perfect combination of eye-catching style and a good level of information presented immaculately. No spelling mistakes, no errors, all the information a customer needs (there is nothing more off putting than having to ask for measurements or sizes) and it all needs to have awesome style. These are the shops customer want to buy from. These are the professionals.


So how can you join the ranks?
Simple! A well organised, professional eBay template shows you mean business. The perfect template is also a platform for up-selling and cross promotion, leaving the customer confident that they are in the hands of a true professional.
We are confident that if you task us with designing the perfect eBay shop for your business you will not only be joining these coveted top seller ranks, but also the hundreds of happy customers we have previously worked for. You can see some of our success stories here – and see some of the amazing ideas and solutions we implemented for our other pro eBay listing template and shop design customers.
Get in touch today to find out how we can add your name to that list.
Outstanding eBay custom designs
that will amaze your potential customers and leave them keen to navigate through the store.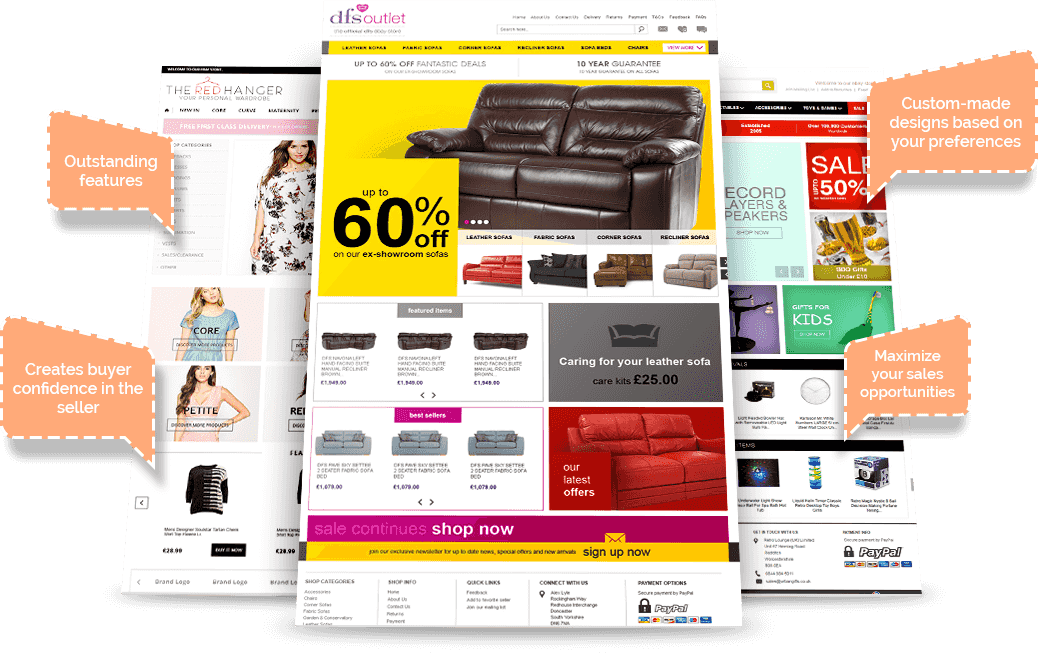 OUR
Awesome Work
These are some of our previous projects
eBay Shop

Packages
If you would like to speak to a representative about your own store, please get in touch.
You're welcome to call, or complete our contact form and we'll call you.