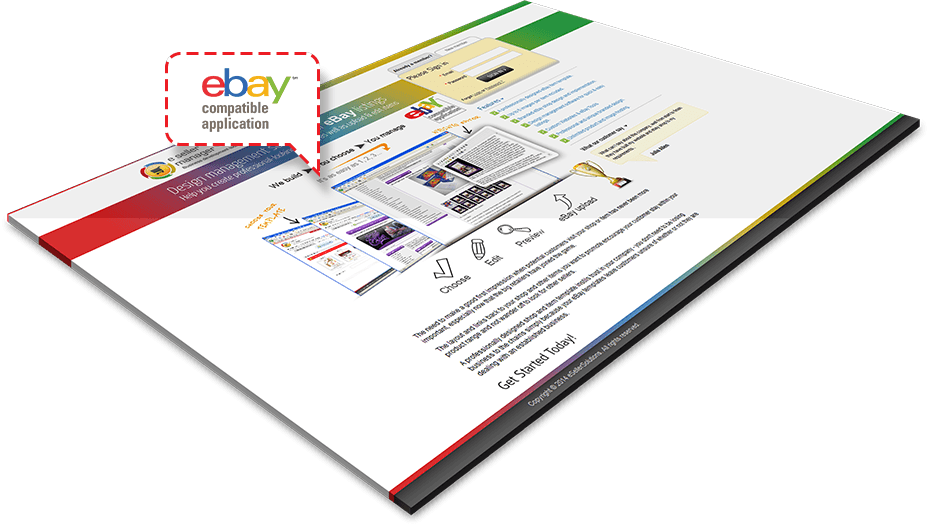 Smart. Simple. Organized.
www.esellermanager.com

Choose

Edit

Preview

eBay upload
Having created your design for you we also offer you access to our subscription based design and listing management software.
This feature rich software allows you to manage your design as well as your listings.
Design Management
So, you now have a great design with banner images, promotion boxes, scrolling features and everything else you asked for. But what if you want to refresh your images, your promotions, feature other items rather than the random selection we add for you at the design phase?
This is where eSeller Manager will help you. We offer you full flexibility for making these changes yourself in an easy to use design view. Refresh your design with new banner images, modify your promotions, select new/different featured items, and in the case of Premium users, go so far as to link specific featured items to specific products for maximum cross-sell benefits.
We can make all of these changes for you, but using eSeller Manager is the simplest and most cost-effective way forward.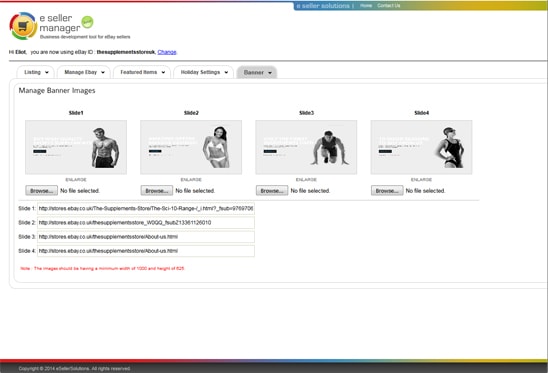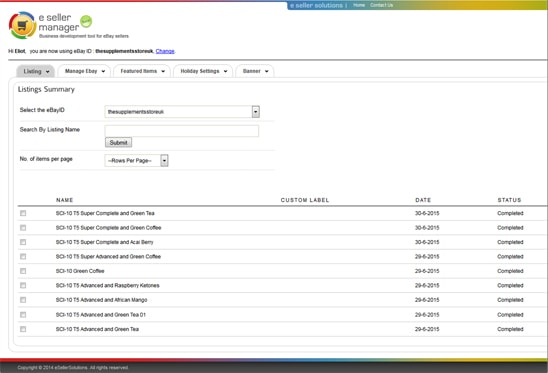 eBay Listing Management
With eSeller Manager you can create new eBay listings in design view and upload directly to eBay, revise descriptions in eBay listings and much more.
You do not have to be an expert developer – this software is designed to let you take control of your shop and listing designs without requiring detailed HTML knowledge.
The table below shows the features available. Please note that the appropriate subscription level for a Standard eBay package is the Standard subscription, Professional eBay package requires a Professional subscription and a Premium eBay package requires the Premium subscription. It is possible to upgrade to higher subscription level, but you cannot opt for lower level subscription.
All of the features offered in eSeller Manager represent additional services that we can offer if you choose not to subscribe to eSeller Manager. They are all subject to quote.
* eSeller Manager can only be used in conjunction with designs created by eSeller Solutions.
Full Features

Hosting
Your design style sheets and banner images can be hosted on our servers. Hosting, either on our servers or your own, is mandatory for the delivery of your design, the maintenance of dynamic elements like shop categories. The amount of space allocated on our server is determined by the subscription package. Additional space is available, subject to quote.

Item Listing
Manager
Create item listings using your listing design. Add product information, pricing, and manage multiple images in listings. Any number of images can be added to your item listing without incurring eBay fees.

List Directly
to eBay
Once you have created your new listing in design view you can upload it directly to eBay.

Description
Revision
If you already have an active item listing in eBay that requires revision you can create the listing description in ESM and revise the description in eBay without ending your listing.

Main Banner
Management
Your primary banner images can be replaced for a fresh look or when you want to run special deals and promotions.

Holiday Image
Management
eBay standard holiday settings are not highly visible. Custom holiday banners can be displayed on your store and items. You have the option to design your own holiday banners and can display them in eBay via ESM.

Featured Item
Management
The items that are displayed in featured items can be managed through ESM. Either set the display to random (default setting) or specify the items that should appear in the scrolling display.

Home page Image
Management
All images on the home page of a Premium Shop design can be managed by the user. Keep your design fresh and updated by making regular changes.

Manage Custom
Promotion Boxes
All promotion boxes are created as images. With the Premium package you can refresh your promotions by replacing these images with new ones as required.

Bulk Image
Upload
Premium users can upload images in bulk to our hosting with ease. Storing images on our servers will significantly speed up the process of creating your listings in ESM. Storage space is limited to 1GB on the Premium package. Additional storage is available, subject to quote.

GroupWise
Featured Item
Management
Premium users can create multiple sets/groups of Featured items and assign a set/group of items to the Featured items for a specific product. This is a powerful tool for specifically targeting products that are a natural complement to an item being viewed.

Bulk Description
Generator
Users can upload an Excel sheet with data in a specific format. Using tags, the column data is pulled into the description section of the listing design. The listings, now complete with design HTML can be exported to .csv file for upload to eBay via TurboLister, File Exchange, ESM or similar.
Support Ticket
System
We offer free email support to assist in the use of the designs we have created and getting the best out of eSeller Manager. Any bug fixes are also included in our support ticketing system. Free support tickets will be dealt with in the order in which they are received and response times are within 2 business days.
All support is offered via email – we do not offer telephone support. This ensures that we have a complete record of the support request and the subsequent actions taken. It also ensures that we operate an effective and fair queuing system.
Changes to your designs or any additional development work are not covered by the free support system. These will be quoted and charged as separate projects or can be covered by a support and maintenance agreement.